Your Career at Hymmen
Our 200 people strong workforce is the key to our success. We are extremely proud of their commitment, their qualifications and their loyalty.
Would you like to join the Hymmen team? Choose a career with Hymmen and you will be joining a traditional and innovative family-run country. What we offer:
Extensive freedom of action and short decision-making processes
Duties that are varied and technologically exciting
Team-oriented working environment
Open, cross-hierarchical communication culture
Wide-ranging opportunities for further training and development
We look forward to receiving your application – as well as to supporting you through your further development.
Current Job Vacancies
Our job vacancies are open to all qualified applicants, regardless of age, gender or ethnic origin.
If you are unable to find anything that suits you among our advertised vacancies, please feel free to send your speculative application to jobshymmen.com.
We look forward to receiving your application!
Mechatronics Engineer Trainee (m/f/d)
All trainee positions are subject to the terms and conditions of the relevant general training standards. Because we make every endeavour to ensure that our trainees gain an insight into as many departments as possible, we like to think that our trainees learn that bit more than in other companies.
So if you're interested in a promising career in an innovative company, feel free to contact us at:
Practical training at Hymmen
Practical training in our company gives you the chance to gain initial insights into the working processes of a medium-sized machinery manufacturer. So if you're interested in metalworking and electrical engineering, we look forward to receiving your application at
 
Hymmen as an Employer
Founded in 1892, the company has its headquarters in Bielefeld and the Hymmen Technology Center in Rödinghausen. The company currently has a workforce of some 200 employees. Our business sector is plant and machinery construction. Hymmen GmbH is, and always has been, a family-run company. In our more than 125-year company history, we have established ourselves as market leader in a range of business sectors. We think the "Hymmen Family" is special because:
Our Benefits - What we offer you:
Exciting tasks and wide scope of action
At work, we offer short decision-making paths, a technologically exciting and varied range of tasks, and an open, cross-hierarchical communication culture.
Central location in the heart of Bielefeld
We score with the local location of our main site in Bielefeld, which is only a few minutes' walk from the city center and the main train station. Our technology park in Rödinghausen is also conveniently located.
Comprehensive catering
Hot and cold drinks are available at all times. In winter, local farmers supply us with fresh fruit, and at lunchtime you can fortify yourself in our in-house Hymmen bistro.
Good working atmosphere
Our corporate culture is characterized by team spirit and an appreciative, family-like atmosphere. We like to get together with our colleagues in an informal atmosphere to celebrate or do something together. Whether it's a spontaneous barbecue, hiking days together, our summer party in the courtyard or our Christmas parties in the Hechelei in Ravensberger Park. Your family is often invited to these events as well.
Sporty compensation
We attach great importance to sports activities. At the regular Hymmen Soccer Cup, we compete with each other and with external company teams in soccer. In addition, there are discounted conditions at the nearby fitness studio and those who wish can lease a Hymmen bike.
Work and family / Flexible working hours
As a family-owned company, the compatibility of work and family is very important to us. Employees on parental leave are in regular contact with Hymmen and also have the option of working part-time during their parental leave.
Vacation and Christmas bonus
In addition to an attractive fixed salary, we pay you a generous vacation and Christmas bonus.
Mobile working
Even beyond the Corona pandemic, we will allow you to work partially on a mobile basis, if your field of activity permits.
30 days of vacation
Your health is important to us, which is why we grant you 30 days of vacation per year (more than required by law). After all, the body needs rest periods to regenerate and recharge its batteries.
Want to know more? Please feel free to get in touch!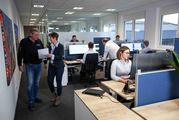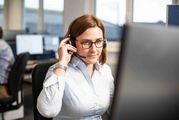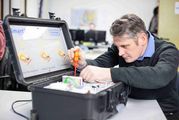 Online Application
So if you're interested in any of our advertised job vacancies or would like to send a speculative application to Hymmen, simply send us an
e-mail with the relevant details. We look forward to receiving your application.
Your Contact at Hymmen
We look forward to receiving your application or message at:
Hymmen GmbH Maschinen- und Anlagenbau
HR Department
Postfach 101513
33515 Bielefeld
Germany
Tel. +49 5 21 58 06-0